Veneers – Worcester, MA
Fixing Multiple Imperfections with One Dental Treatment
Dental veneers have become a popular treatment option for addressing both cosmetic concerns and damaged teeth alike. They can be fully customized to provide either a subtle or dramatic transformation for your smile, making them among the most versatile and economical of all cosmetic dentistry options. Our experienced, highly trained cosmetic dentists offer veneers in Worcester, MA. We work with patients to help them achieve the smile they desire and improve their overall dental health. Continue reading below to learn a little more about impressive veneers and their capabilities or feel free to give our office a call today for further information.
Why Choose Dr. Costa & Dr. Waxman Family Dentistry for Veneers?
Friendly & Knowledgeable Dental Team
Comfortable Office with Modern Amenities
Beautiful, High-Quality Results You'll Love
What Are Dental Veneers?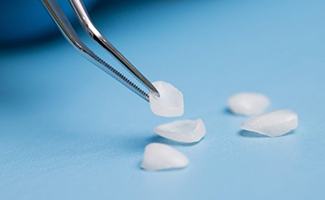 Dental veneers, also sometimes called porcelain veneers, are perhaps the most comprehensive cosmetic treatment option available these days. They are made of an ultra-thin ceramic material that's capable of reflecting as much light as your natural tooth enamel. This material is expertly shaped to resemble your teeth before it's adhered to the surface, covering up and assisting with a wide variety of flaws including chipped and cracked teeth, gaps between teeth, areas of discoloration and more. The high-quality material that is used to fabricate your custom dental veneers is also highly durable and stain-resistant. With proper dental care and good oral hygiene, most patients can expect their veneers to last a lifetime.
The Process of Getting Veneers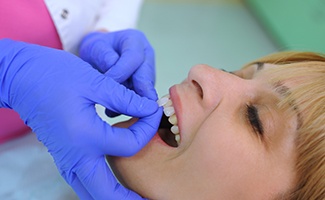 Here's a brief overview of the process for getting dental veneers:
Consultation and Examination: Before getting started, Dr. Costa will meet with you to discuss your concerns, goals, and budget. He will comprehensively examine your entire occlusal system (teeth, gums, and jaw joints) to look for any signs of instability that may compromise your results. Then he will create a custom plan unique to your smile. The plan may include preventative measures to make sure that we fix issues that may cause the veneers to be less effective. Dr. Costa will never recommend unnecessary dental treatments and will do his best to work within your budget.
Preparation: Next, we will prepare the tooth, or teeth, to accommodate the veneers by taking detailed dental impressions. We will then remove a minor amount of the natural tooth structure to allow adequate space for the veneers to fit securely. This will give the veneers a rough surface to affix to for a permanent fit, and it's nothing to worry about at all.
Final Restoration: At the final visit, your Worcester cosmetic dentist will place the permanent dental restorations, make any necessary adjustments for fit, and secure them to the surface of your teeth. Your final result will be a healthy, functional, and comfortable smile that also supports lasting dental health!
Benefits of Veneers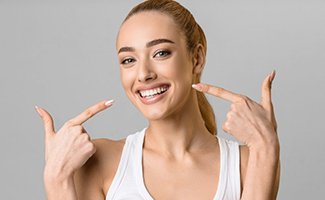 When you commit to receiving veneers, you aren't just receiving a beautiful new smile—you're unlocking access to an impressive list of benefits, including:
Veneers can treat one, two, or multiple dental imperfections simultaneously in any number of teeth.
They're quite versatile and capable of addressing an umbrella of issues including chips and cracks, stains, gaps, minor misalignment and more.
The process is incredibly quick, streamlined and minimally invasive thanks to the efforts made by your dentist.
The results are durable, lifelike, and capable of lasting 10 or more years with proper hygiene.
Dental veneers can also offer increased oral functionality in addition to providing an aesthetic boost.
Understanding the Cost of Veneers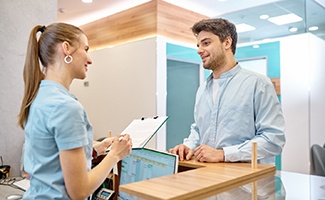 After learning about all of the perks of veneers, many patients ask themselves, "How much do they cost?" That's a great question, and one we will find the answer to at your initial consultation! During this appointment, we will learn important information that impacts the price, including which dental imperfections you'd like to address and how big of a transformation you'd like. In the meantime, you can read on to learn more about the cost of veneers as well.
Cost vs. Cosmetic Dentistry: What's Right For Me?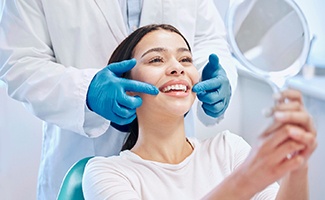 Whether you're unhappy with your smile because of a minor chip or because of serious stains, there's a good chance that veneers are just one of many options available to you. For example, at our Worcester dental office, we offer:
Braces – Invisalign is an innovative, discreet orthodontic treatment that can address everything from minor gaps to more significant overcrowding. While veneers can't fix more moderate cases of malocclusion, they can conceal small gaps in as little as two appointments!
Teeth Whitening – Far superior to anything you'll find at your grocery store or pharmacy, professional teeth whitening can effectively lift stubborn stains, lightening your teeth by eight shades in the process. However, if you want to fix permanent discoloration, then veneers may be the best treatment for you.
Veneers – One of the distinct advantages of veneers is how versatile they are. Whether you want to fix a few minor dental flaws or completely transform your smile, this cosmetic dental service can help! Plus, the entire process can be completed in three visits or less, and the results can last upwards of 20 years with proper care.
How to Make Veneers Affordable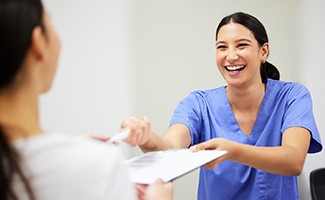 As you may know, dental insurance providers typically only cover treatments that are "medically necessary," like essential preventive care. Therefore, veneers aren't typically covered. The good news is that our Worcester dental team offers other financial solutions, like periodic special offers. That way, you can lower your out-of-pocket expenses significantly! So, if you are at all concerned about the cost of veneers, don't hesitate to reach out to our team. We'd love to help you get the smile of your dreams without the financial stress.
Veneers FAQs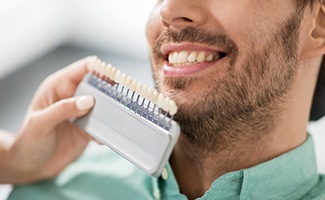 It's natural to have questions about any particular dental treatment, but you should never have to search far and wide for reliable information. Below are some answers to a few of the most frequently asked questions that we receive about dental veneers:
Are There Any Disadvantages to Getting Dental Veneers?
Dental veneers are considered a permanent, irreversible treatment. Once you commit to veneers, you will need to maintain them for a lifetime. Veneers are susceptible to chipping, breaking, and cracking and will need to be replaced if damaged. We suggest avoiding hard foods and using your teeth as tools (such as opening items with your teeth). To protect your teeth and help your veneers last a long time, you must pledge to a strict, daily oral hygiene routine and visit your dentist twice a year for a regular dental checkup.
How Do I Care for My Veneers?
Veneers can only thrive on healthy teeth and gums. To protect them, you must continue with a regular oral hygiene routine. This includes brushing your teeth twice a day, flossing once a day, and visiting your dentist every six months for a routine dental exam and teeth cleaning. You should also avoid chewing on hard objects such as hard candy, ice, fingernails, etc. This will prevent them from breaking. With proper care, your veneers should last for up to 10-20 years.
Can I Whiten My Teeth After I Get Veneers?
We cannot whiten veneers, even with professional teeth whitening. If you undergo teeth whitening treatment, you will risk your teeth being of different shades. We suggest whitening treatment before dental veneers. This way, we can color-match the veneers to surrounding teeth for a more natural look.