Dental Implants – Worcester, MA
A Stronger, More Stable Solution to Tooth Loss
At Dr. Costa & Dr. Waxman Family Dentistry, we offer affordable dental implants in Worcester, MA. This treatment option is the most popular procedure for replacing lost teeth. Dental implants are considered the gold standard for tooth replacement. In fact, they are a large part of our restorative dental services. The dental implant procedure provides patients with a permanent, secure option that can last a lifetime. We will coordinate the surgical phase of your procedure with a local specialist and place the final restoration in our dental office so you can enjoy the best possible results. Contact our office today to schedule a consultation.
Why Choose Dr. Costa & Dr. Waxman Family Dentistry for Dental Implants?
Dentist with Extensive Training from Spear Education
We Accept & Maximize Dental Insurance
Caring & Compassionate Dental Team
What are Dental Implants?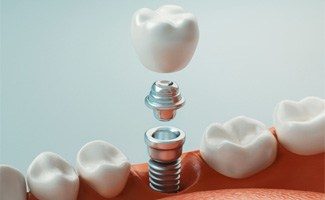 Dental implants themselves are small titanium posts that are surgically inserted below the gumline and into the jawbone by a skilled oral surgeon. Due to their biocompatible nature, they're able to fuse with the jawbone through a process called osseointegration, replacing the entire structure of missing teeth, including the roots. As a result, they provide replacement teeth with an incredibly strong and stable foundation to be attached to.
The Components of Dental Implants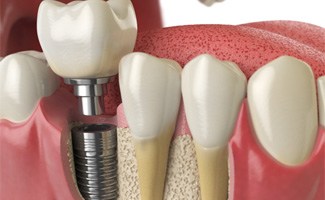 Dental implants are made up of three parts: the fixture, abutment, and dental prosthesis. These parts will connect together to make up the number one dentist-recommended way to replace your teeth.
Fixture/Implant Post
A fixture, called an implant post, is a metal screw surgically implanted into the jawbone. This piece will fuse with the bone over the span of several months, making it very stable and durable. Its main responsibilities are supporting the dental prosthesis and acting as a tooth root. An implant post will prevent the underlying jawbone from deteriorating, a common side effect of tooth loss.
Since the fixture is essentially an extension of the jawbone, it will hold the false teeth in place, preventing slippage and allowing for a greater chewing force. They come in various lengths and diameters to accommodate the different areas they need to be placed along the top and bottom arches.
Abutment
The abutment is a short stumpy connector piece that will connect the implant to the dental prosthetic. It will sit right at or just above the gum line but will not be seen once the false teeth are attached. This piece is screwed onto the implant once it has fully fused with the jawbone. This involves a minor procedure and is used in two-stage implants. There are also one-stage implants where the abutment is attached to the implant immediately after they are surgically placed.
Dental Prosthesis
The dental prosthesis is the piece that acts as a replacement tooth. It is the last thing to be attached to complete the entire restoration. Several different types of prostheses are available depending on how many teeth you are missing. A dental crown is used when a single tooth is missing. Dental bridges are typically used when there are more than two consecutive teeth missing. A denture can replace an entire row of teeth.
The 4-Step Dental Implant Process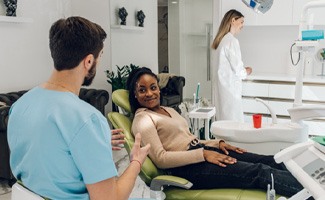 Dental implants are becoming increasingly popular as people realize they are the next best thing to natural teeth. Unlike a traditional dental restoration, the process is more extensive and requires at least one surgical procedure. Dr. Joseph Costa works with local oral surgeons to offer a seamless dental implant process with outstanding results. While the timeframe of each treatment can vary from patient to patient. In general, it should take between six and nine months to complete and can be separated into four main parts.
Consultation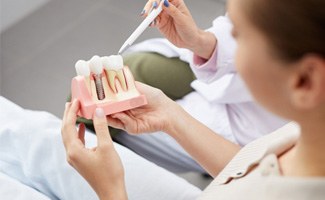 The first part of every successful dental implant procedure is a thorough consultation. During this procedure, Dr. Costa will speak with you about your smile goals and gather any necessary diagnostic information, like X-rays. He'll walk you through your treatment plan and answer any questions you may have. Once you consent to moving forward with the procedure, our team will move you onto the next step.
Implant Surgery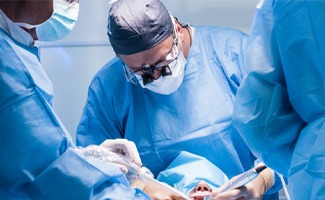 A local oral surgeon will surgically place the implant fixtures in the jaw at the locations specified in your treatment plan. The number of dental implants you need is determined by the number of teeth you are missing and what kind of prosthesis is being secured. The surgery involves creating a small incision in the gums to expose the underlying bone. A hole is then created in the bone where the implant will be inserted.
Osseointegration & Abutment Placement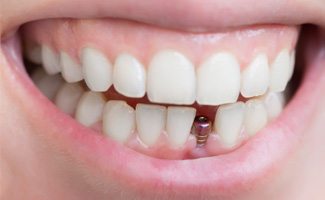 Osseointegration takes between three and six months to complete. This is when the implant and bone will fuse together, making it strong enough to support your new replacement teeth. Once the implants are fully fused with the surrounding bone, a small metal piece will be attached to them. The abutment is responsible for connecting the prosthesis to the dental implants.
Attaching the Prosthetics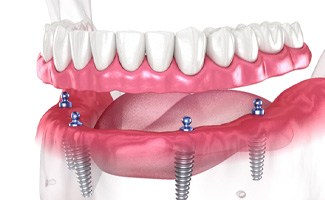 The last step in the process involves attaching the dental prosthesis. This will be a dental crown if you are missing a single tooth, a dental bridge if you are missing several teeth in a row, or a denture if you are missing a full arch of teeth. Once the false teeth or tooth is attached, you can enjoy your brand-new smile!
Benefits of Dental Implants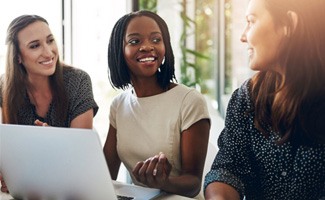 Dental implants offer countless benefits compared to traditional dental bridges and dentures. When helping patients with missing teeth, Dr. Joseph Costa will ensure they know all their options' advantages and disadvantages. No matter how many teeth you are missing, dental implants offer more benefits than other treatment options. Learn more about the benefits of dental implants in Worcester, MA by reading below.
Minimally Invasive to Existing Teeth
Other teeth replacement solutions can harm your remaining healthy teeth. A dental bridge is secured to two healthy teeth that have to be reduced in size to support the anchoring crowns. A partial is held in place with metal brackets that rest on healthy teeth. This makes those teeth more susceptible to decay and damage. Dental implants will only replace the missing teeth and will not harm any remaining ones.
Easy Maintenance
Dental implant-supported restorations are easier to care for. Most patients will brush and floss as they normally do. Dentures and dental bridges require more maintenance, in addition to needing to be replaced periodically, as they don't prevent bone loss.
Enhanced Stability
A dental implant will integrate with the jawbone. This will help hold the dental restoration firmly in place. Being more stable means never worrying about the restoration falling out. Additionally, it will not move around in your mouth, causing your speech to slur. You will also have more chewing power. With dental implants, there are not many foods that you will have to avoid.
Long Lifespan
Dental implants are strong, screw-like fixtures that integrate with your jawbone. They are made of titanium, a metal that is safe, biocompatible, and won't decay with time, meaning with good oral health, you may never need to replace them.
Prevention of Bone Loss
Dental implants are the only tooth loss solution to help prevent bone loss in the jaw by fusing with it. This signals to the body that the jawbone is still being utilized by the teeth, preventing it from deteriorating like it would if there were no roots stimulating the area.
Impressive Patient Satisfaction Rate
Dental implants are known to drastically improve patient quality of life, as they look, feel, and function identically to natural teeth. Because of this, patients are able to enjoy boosted confidence and overall better psychological and physical health.
Who Can Dental Implants Help?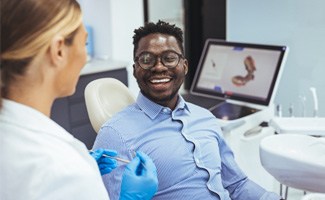 Dr. Joseph Costa recommends multiple dental implants in Worcester for patients with several or all missing teeth. Multiple missing teeth can have a big impact on your quality of life, causing you to avoid smiling, making it difficult to chew food, and increasing your chances of developing additional oral health problems. To reduce these impacts on your life and health as well as restore the aesthetic beauty of your smile, we may recommend replacing any number of missing teeth with dental implants.
Missing One Tooth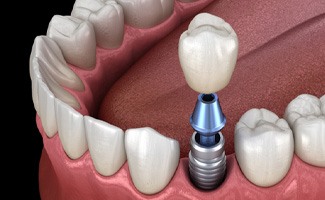 To replace a single missing tooth, we can secure a free-standing, customized dental crown to one dental implant that we surgically insert below the gumline and into the jawbone. This will prevent the need to alter your surrounding teeth, making them more susceptible to decay and infection.
Missing Multiple Teeth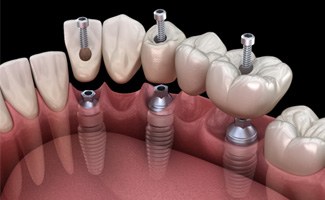 Unlike with traditional bridges, which require us to alter the existing teeth on either side of the gap in your smile to support the anchoring crowns, implant bridges are secured to dental implants. This requires less alteration of your natural, healthy teeth.
Missing All Teeth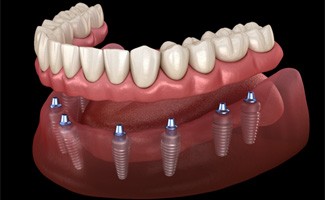 Whether you need to replace several or all of your missing teeth along an arch, Dr. Costa can secure a full denture or several bridges and crowns to anywhere from four to eight dental implants. These will be surgically placed in the most supportive areas of the jawbone to provide your restorations with a strong support.
Understanding the Cost of Dental Implants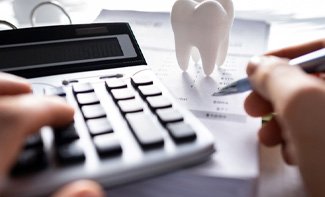 Patients often worry about the cost of dental implants when they are first presented with the idea of using them to replace missing teeth. It is no secret that dental implants involve a large investment, and most dentists spend their time justifying the cost. Dental implants offer patients the most normal life possible when their natural teeth are lost. Luckily, they can be more affordable than you think, especially in the long run. Dr. Joseph Costa can help you understand the cost of dental implants in Worcester, as well as your payment options.
Factors That Affect the Cost of Dental Implants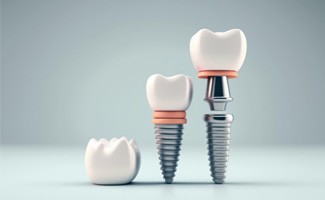 Dental implants involve high-quality materials and surgical procedures, which are not cheap. However, this is what sets them apart from the other options. A restoration that is secured with dental implants can run anywhere from $3,000 to close to $100,000, depending on whether you require a single tooth replacement or are planning on restoring your entire smile.
A single missing tooth can be replaced for around $3,000, while a full mouth of missing teeth can cost $34,000 and up. Without a proper examination, we cannot offer a cost estimate. This is because many factors go into determining the price of this custom-tailored treatment, including:
The number of missing teeth
The location of those teeth within the mouth
The type of dental restoration(s)
The number of dental implants
Whether you require preparatory treatments
The Cost of Dental Implants vs. Traditional Prosthetics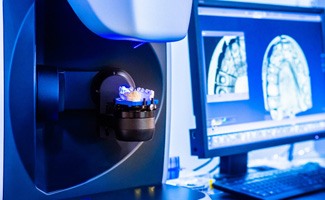 Dentures and dental bridges have a lower up-front cost than dental implants; however, these restorations must often be replaced, repaired, and relined. When teeth go missing, so do the roots, which are responsible for keeping the jawbone healthy. Without them, bone loss will occur that alters the fit of your restoration.
Because of this, your restoration will require regular maintenance and have to be replaced several times over the years. This cost will add up and may even exceed the cost of dental implants.
Does Dental Insurance Cover Dental Implants?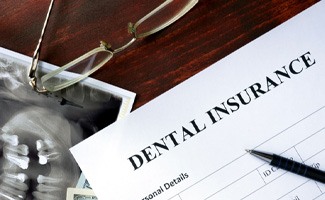 Every patient has different types of policies and coverage. Ultimately, you are responsible for knowing what kind of coverage your dental insurance offers. Our helpful staff will file the claim to maximize your benefits. After that, we can determine the amount you are responsible for. We find that some insurance providers will offer coverage for a portion of the treatment. This may include extractions or dental restorations.
Is the Investment in Dental Implants Worth It?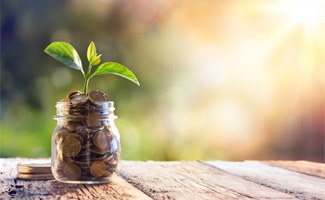 You definitely get your money's worth with dental implants. These titanium posts are meant to last a lifetime. If you visit your dentist every six months for routine dental checkups and teeth cleanings, as well as brush and floss daily, then your dental implants could even last forever. However, you will eventually need to replace your prosthesis due to everyday wear and tear. The better you care for it, the longer it will last.
Dental Implant FAQs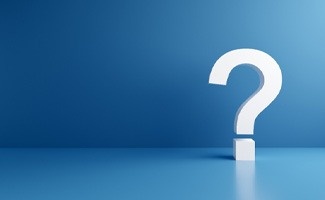 Have questions about dental implants in Worcester? We want you to feel confident in your decision to move forward with scheduling a consultation, which is why we've outlined some answers to the most common questions we receive about this treatment below. If you don't see what you're looking for, please give us a call!
Can a dental implant fail?
Dental implants provide a long-term, indefinite replacement for missing teeth when properly cared for, but there are several factors that can cause a dental implant to fail prematurely. Patients suffering from diabetes or other pre-existing medical conditions, such as cancer, have a higher risk of dental implant failure. Additionally, poor oral hygiene can lead to periodontal (gum) disease, which weakens the underlying jawbone and could cause the implant to become less stable.
How do I care for my dental implants?
The implants themselves do not require special care. As long as you keep your teeth and gums healthy, your dental implants should last a lifetime. You should follow your dentist's instructions to properly care for the dental restoration. This is important because the restoration can suffer from wear and tear. Mouth location plays a role in how much wear and tear your restoration will endure. Generally speaking, a dental restoration can last up to 15 years if it is cared for and does not suffer any trauma.
Do I qualify for dental implants?
Most people will qualify for dental implants as there are very few requirements. Dr. Joseph Costa will conduct an oral examination and take X-rays and other diagnostics to determine if you qualify. He will be making sure that you are free from any oral health diseases and problems. Additionally, he will make sure there is enough bone density in your jaw to support the implant fixtures. Using tobacco in any form is not recommended. After the surgical implantation, your mouth requires a healthy environment where the implants can fuse with the bone and the soft tissues can heal.
I currently have dentures. Can I switch to dental implants?
Most people who are currently wearing removable dentures can switch to dental implants. Some denture wearers find it hard to adjust to wearing a removable prosthesis. Additionally, some people wear them for years and then decide they want their dentures to be more stable. If you suffer from jawbone loss, which is a common condition denture wearers face, a bone graft may be needed to rebuild the jawbone. If you have a good amount of jawbone, then we will plan out your treatment and schedule your appointment for the surgical placement of the implants.
How do dental implants prevent bone loss?
Without the tooth root, the underlying bone will begin to break down, and bone loss will occur. A dental implant not only supports a dental prosthesis but also replaces the tooth root. When you chew or bite, the implant is able to provide enough stimulation to the bone, allowing it to regenerate. A dental implant-supported prosthesis is the only tooth replacement solution that will prevent bone loss.
Do dental implants ever need to be replaced?
With adequate oral health care, your dental implants should last forever. This includes visiting our Worcester dental office every six months for a teeth cleaning and dental checkup, in addition to daily teeth brushing and flossing. The dental prosthesis may need to be replaced due to wear and tear after 10 – 20 years.
Are dental implants worth the investment?
Dental implants offer many advantages over other tooth replacement solutions. Even though they cost more and the process takes longer, they will feel, function, and look just like natural teeth. They are more stable than dental bridges and traditional dentures. You will not have to avoid certain foods, and the implants will prevent bone loss in the jaw.
Bone loss is a common occurrence with dentures and bridges. It can alter the appearance of your face, making you appear years older than you actually are. Dental implants are not only an investment in your health but also an investment in your self-confidence and overall well-being.