Dentures – Worcester, MA
A Reliable Solution for Patients with Multiple Missing Teeth
Dr. Joseph Costa offers multiple options for replacing missing teeth , including dentures in Worcester. Back in the day, dentures used to look bulky and fake. Fortunately, that's no longer the case. Today, cosmetically pleasing dentures can provide a natural-looking smile that will feel comfortable and restore your mouth's full function after tooth loss. Want to learn more? Then schedule a consultation with us or keep reading!
Why Choose Costa & Waxmen Dental Associates for Dentures?
Dentist Who Trained at the Prestigious Dawson Academy
Dental Insurance and Flexible Financing Available
Dental Team Focused on Delivering Exceptional Customer Service
Who Is a Good Candidate for Dentures?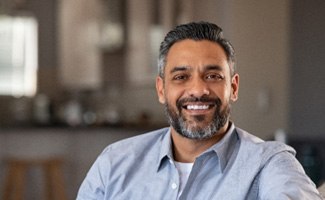 Whether you are missing several teeth in a row, scatter throughout your mouth, or you don't have any of your natural teeth left, you may be a good candidate for dentures! It is essential to replace lost teeth as soon as possible to prevent the development of additional dental problems and preserve the aesthetics of your natural smile. In addition, missing teeth can lead to changes in your oral health, such as gum disease, bone loss, jaw shrinkage, and shifting teeth. So, if you are struggling with tooth loss, don't wait to schedule an appointment with our Worcester dental team to learn all about the tooth-replacement options available to you.
Types of Dentures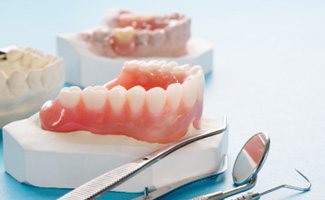 As mentioned above, you now have a variety of choices to choose from when considering dentures. We offer three types of dentures, which can be either removable or fixed:
Partial Dentures
As the name suggests, a partial denture replaces several missing teeth while preserving the remaining natural teeth you have. Partial dentures can be secured either by a dental implant or by a natural tooth strengthened by a dental crown.
Full Dentures
A full denture replaces the top or bottom rows of teeth. They are crafted by a skilled technician using the latest dental technology, and they are held in place with natural suction, denture adhesive, or a mixture of the two.
Implant Dentures
This option is a full denture that sits on four to eight dental implants, in most cases. Your new denture will be permanently secured with several strategically placed dental implants. This option has the least amount of food restrictions and does not require the use of denture creams.
The Benefits of Dentures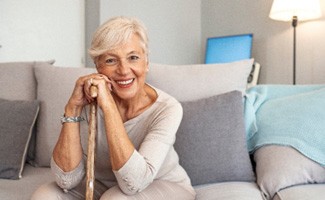 As mentioned above, advancements in dentistry and technology have positively impacted dentures. Once bulky and obvious, they are now extremely natural-looking and durable. Furthermore, they are extremely versatile, one of the most cost-effective options available, and easy to maintain. Lastly, and perhaps most importantly, they can restore your bite so you can eat a varied, nutrient-dense diet once more.
Caring for Your Dentures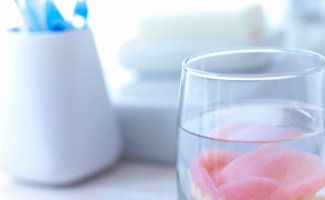 Good oral hygiene and routine maintenance are important for keeping your new denture functional and comfortable. In addition to visiting our dental office twice a year for preventive dental care and routine screenings for gum disease and oral cancer, use these oral care tips for the best result:
Keep your dentures moist when not wearing them by placing them in room temperature water (not hot) with a cleansing solution.
Brush your dentures daily to remove any food particles and reduce staining from dark foods and beverages.
Brush your tongue and gums to stimulate healthy blood flow and prevent plaque from spreading and causing gum disease.
Understanding the Cost of Dentures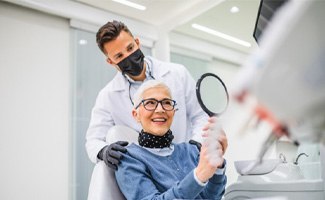 Navigating the cost of any dental treatment can be difficult on your own. That's why our team at Costa & Waxmen Dental Associates is here to help every step of the way – from your first phone call to your final appointment. We've even dedicated this next section to reviewing some of the factors that impact the cost of dentures. So, you can read on to learn more too!
Factors That Affect the Cost of Dentures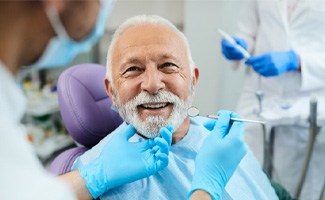 At your consultation with Dr. Joseph Costa, he will determine the following:
The number of teeth that need to be replaced – Typically, it costs more to address moderate to severe cases of tooth loss.
If any preparatory treatments are needed – Sometimes, preliminary services are needed, like tooth extractions and gum disease therapy.
What materials will be used to make your restoration – Although there are cheaper materials, we want to use one that is aesthetic, comfortable, and durable.
The type of denture you want – In addition to traditional dentures, we offer implant-dentures, which provide additional stability.
Are Implant Dentures More Expensive?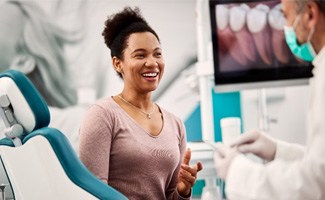 Usually, implant dentures are more expensive because they require oral surgery. That's not to say, however, that they aren't a good investment. Quite the opposite! Since dental implants can last for 30+ years, they often end up being the best choice for your wallet in the long run. Plus, there are countless other benefits, like the fact that they preserve your jawbone (and your youthful facial structure). If you're a bit unsure whether or not implant dentures are right for you, don't hesitate to talk to our team about this state-of-the-art tooth-replacement solution at your consultation.
Does Dental Insurance Cover Dentures?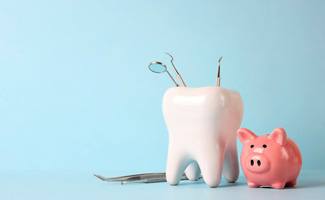 Since dental insurance plans are unique, there isn't a one-size-fits-all answer. With that said, essential restorative services, like dentures, typically are covered in part. Of course, there are also waiting periods, yearly deductibles, and other factors to consider, which is why we encourage our patients to familiarize themselves with their benefits. Our practice is also dental insurance-friendly, so if you have any questions about how your coverage pertains to the treatment you're interested in, we can help!
Dentures FAQs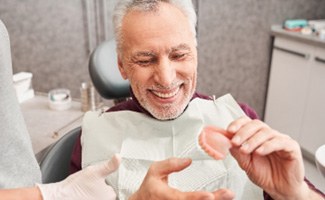 At your appointment, you'll sit down one-on-one with Dr. Costa, and he will answer any questions you have about dentures before you leave. However, if you want to do more research online before your visit, we completely understand. That's why we dedicated this next section to FAQs!
When Should I Replace My Old Dentures?
As a rule of thumb, dentures should be replaced every five to ten years. They are not meant to last forever! Your mouth and jawbone change over time, so keeping your restorations in good condition are important. The older your dentures get, the more likely they will become less comfortable and not fit like they used to. Get your dentures checked at the dentist if they are causing gum irritation and other issues.
Do Dentures Hurt?
Dentures are bulky in the mouth and will take some time to get used to. However, they should never hurt. Properly fitted dentures should not cause you any issues. Please schedule an appointment immediately if you have an uncomfortable denture that creates mouth sores. It may need an adjustment or replacement.
How Do Dentures Stay in Place?
This depends on what type you have. A partial denture uses clasps made of metal or acrylic that will snap around existing teeth. A full denture relies on a layer of saliva between the gums and base to create a suction effect. Dental implants can also secure the denture. This is the most secure option. Dentures secured by dental implants will not move around in the mouth and will allow you to eat a diet with little to no restrictions.